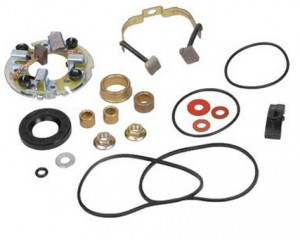 Starter repair kit from Mitsuba manufacturer
Mitsuba has a long history of manufacturing electrical components for motorcycles. This company is known all over the world. Since the launch of the first plant in 1960, the engineers of this Japanese manufacturer have significantly modified many of their products. This brand is associated with alternators, ACG starters, fuel pump systems, LED turn signals, and various relays. Mitsuba manufactures starters (including the Mitsuba SM18 12v starter) based on its technical capabilities. A separate branch is a starter motor rebuild kits. The introduction of innovations allows this company to assemble equipment in a compact package. The Japanese brand embodies high-quality components and advanced electronics.
Features of Replacement and the Breakage Signs
Mitsuba has been manufacturing motorcycle starters for more than 60 years and supplies equipment through partners around the world, including the United States. The company offers a wide range of products for a variety of vehicles, from mopeds to large car engines. Most Mitsuba starters are compact, easy to install and powerful. Such equipment is used in more than 1,000 models.
But every starter has its own service life and most often the cause of failure is the wear and tear of individual parts of the starter. In this section, you can buy a starter repair kit for different engine models.
Here are some reasons to buy a new starter rebuild kit:
The light on the dashboard is flashing. In most cases, this is due to broken wires. In order to avoid a short circuit, it is better to fix it.

The engine starts up after 3-4 attempts. The main reason for such incidents is corrosion and the accumulation of dirt on the generator brushes. If you have such a problem, you can clean the components or replace the worn part.

A hum is heard when turning the ignition key. Typically, vibrations are due to wear on bearings, which are considered consumables. Just stop by the MOT more often in order to prevent more serious problems.

Any Mitsuba starter ensures smooth motor rotation. If you want to prevent vehicle breakdowns on the road, you should undergo maintenance at least 2 times a year. This is especially true for electrical equipment. The driver should take good care of both the crankshaft and the equipment used for ignition and engine control. Accumulation of dust and moisture will damage this unit.
Buy Starter Repair Kit With Delivery
Would you like to order a Mitsuba SM18 12v starter rebuild kit or any other Mitsuba starter rebuild kit today? If so, you are on the right track. This Japanese company is engaged in local assembly production in 9 global factories to meet the needs of vehicle manufacturers in different countries. Our store has long become a regular partner of many auto repair shops that prefer Mitsuba starters. This brand's space parts are used not only for motorcycles and cars but also for the ATVs' engines, boats, and general-purpose generators. If you want to buy certified equipment for the repair of such units, call us today. We hire technically competent managers who are ready to advise each customer in detail.